Huge congratulations to our training team who have taken out top honours at this year's Queensland Training Awards 2019. Well done!
This year, All About Living were nominated for Community Training Initiative of the Year – Metropolitan Region –  for providing outstanding assistance to Queenslanders to gain the skills, experience and VET qualifications required to enter and stay in the workplace, by a community-based not-for-profit organization.
To deliver this exceptional training opportunity, we collaborated with Skills Generation and Skilling Queenslanders for Work to form a Carers Consortium program. Our focus is to deliver individual support qualifications in order to provide essential workers to the aged care sector, and facilitating workforce pathways for people with barriers to employment. In 2018, 82 per cent of our Carers Consortium participants went on to employment and further study.
We were proud to accept the award presented by Hon Shannon Fentiman MP Minister for Employment and Small Business and Minister for Training and Skills Development. And accepted by Darryl McNamara, President of the AAL Board.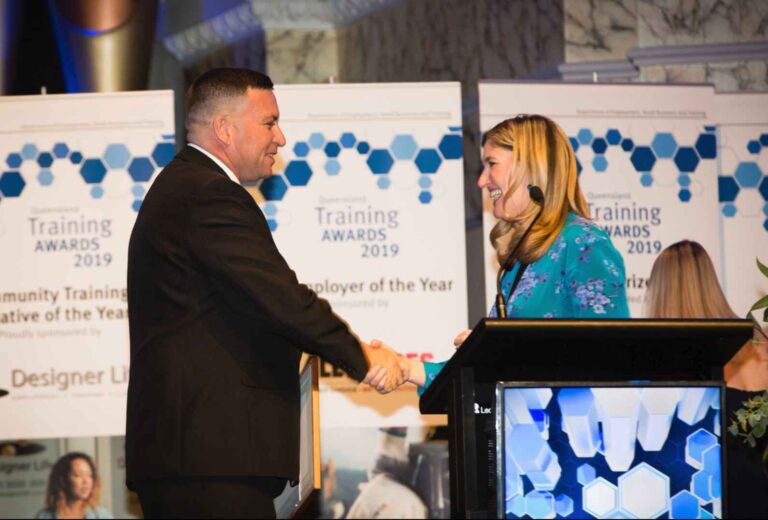 The QTA Community Training Initiative of the Year was proudly sponsored by Designer Life –a provider driven to help individuals reach their full potential and overcome barriers, and has achieved great success in many regional, remote and disadvantaged communities.
Interested in joining our award-winning FREE training program? Are you an Australian citizen or resident wanting to start your career or return to the workforce? Would you like flexible work and study hours? Call our office or fill in this contact form and we'll let you know when our next session is running.