The National Disability Insurance Scheme (NDIS) has been fully rolled out in Queensland since January 2019 and participants have been exercising their choice and control with their approved funding, to achieve their goals and improve their quality of life. This is fantastic for those with approved plans but for some the path to NDIS success has been littered with false starts and disappointment.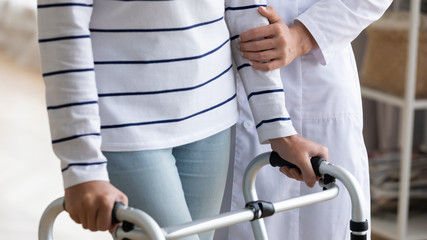 MEET LEONA
Meet one of our NDIS participants Leona. She is a mother, a grand-mother and loves to read and swim. She is also tower of strength who has just fought for nearly two years to be accepted on the NDIS for her condition.
Leona was been diagnosed with Chronic Inflammatory Demyelinating Polyneuropathy (CIDP) which is a rare neurological disorder in which there is inflammation of nerve roots and peripheral nerves and destruction of the fatty protective covering (myelin sheath) over the nerves.
This affects how fast the nerve signals are transmitted and leads to loss of nerve fibres. This causes weakness, paralysis and/or impairment in motor function, especially of the arms and legs (limbs). Along with this weakness/numbness Leona also experiences debilitating pain as result of this condition, sometimes making it impossible to leave her bed for days at a time.
BEGINNING THE PROCESS
 Leona first began her application process for the NDIS in August 2018 with assistance from her GP. Her first submission was denied with more information requested. It was at this point that she was contacted by the team at All About Living to assist with the application process. Despite All About Living being as new to NDIS as Leona they continued to prepare and submit applications. Fast forward 12 months, several applications later and still no headway made. In Leona's own words "this period was a total nightmare, resubmitting the same forms over and over".
Enter Cameron Day-Lewis, Leona's modern-day knight in shining armour. As our NDIS Transition Specialist Cameron has been trained to assess eligibly for the NDIS and if eligible assist in the application process. Cameron took on Leona's case and remained calm through all the frustrations. He looked through Leona's case to-date and contacted the NDIA for further information on why Leona's applications were not being approved. He helped Leona apply for appeal to have her application assessed and assisted Leona with gathering additional supporting documentation from various specialists to strengthen her case.
FINALLY APPROVED – TIME TO CELEBRATE
On 20th April 2020 Leona's NDIS application was finally approved and she was awarded a plan which would be life changing for her. This funding allows Leona services at home from both professionals and support workers, home modifications to assist with her mobility around the house and assistance with meal preparation.
While Leona's condition can never be cured, her quality of life has greatly improved in the last month. Steps are being made to re-engage Leona socially and increase her independence in the community and her long-term goal to re-enrol in university to finish her degree in Sociology looks to be an achievable dream.
All About Living provides Free expert assistance to those who are at the beginning of their NDIS journey. Let us help you achieve the quality of life that you deserve. If you'd like to speak to Cameron regarding your NDIS access, please contact us and he'll help you get you started.